All good things must come to and end…to make way for GREATER THINGS! Click the articles to read more…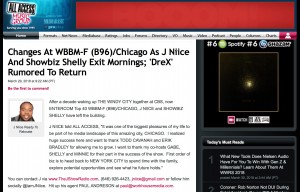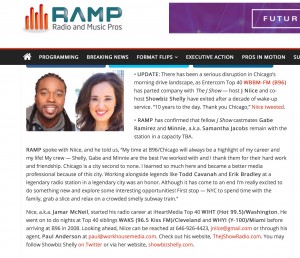 For many, the end of this morning radio program came as a shock and a disappointment.  I am so excited about whats NEXT, however I want to talk about the bond that is created between the listener and the audience that cannot be overstated.
I've been in line at the grocery store…gotten a phone call…and when I answer, the lady next in line FREAKS OUT… "OMG, J! Its YOU!"  Hearing people's voices every single day…sitting in your car or on the train/bus,  day in and day out for YEARS does something to you.  I get it…I had the same bond with my fav. radio hosts…and still do.  We the hosts and you the audience member shared countless of our intimate, shameful, humorous stories, opinions and experiences to express at the basic level that, hey…I'm human.  That is the basis of friendship.  We're friends.  Even if we've never met…even if you NEVER called this show, or called and never got through, you probably added to the morning conversation in your head…and said "HELL YEA" when you agreed with Shelly, or said "WTF" when you disagreed with me, or Gabe etc.  In those moments something happens…although you can't see it or touch it…you can FEEL it.  Its a bond and its real. That's morning radio.
The J Show in Chicago, as we know it is over as of 3-29-18.  As I typed that, I smiled…not out of spite but out of excite.  I have LIFE, I have dreams, I have breath in my lungs and I have MANY MANY MANY talents…most importantly I have TIME!
I've been in show business my entire life. I have talents that probably never were expressed fully on our program for one reason or another.  I am going to develop them and share them with you and the world!  If you stay connected with me, my hope is to enhance your life experiences somehow through my work and experiences. Click here to learn some more about me as well as ALL OVER this website  —–> www.thejshowradio.com
I posted our last talk break on the program because I know that you tune in and tune out and maybe missed it…and probably feel super dissed that you didn't get to say goodbye and didn't get the closure you needed.  I know that feeling very well.  You don't deserve that. You probably want a REAL REASON.  In media, for legal reasons we cannot always disclose the reasons of certain decisions.  Hosts, by participating we agree to play the game and accept the outcomes no matter what they may be.
I'm not even sure if I fully expressed everything clearly on the show at the time. It was a rough and emotional moment.  So allow me to add this…coming into the position as the new host for the B96 Morning show, I was an outsider in many respects.  By many measures I was also an unlikely candidate for this position.  Top 40 radio station, anchored by some black dude…not even black-American, but JAMAICAN…from New York?  Who's NEVER done morning radio before?!??  Who's never lived in the Midwest B4? Who knows NOTHING about CHICAGO?!?  Taking over for a 20 year LEGACY program?  Why does he talk like that?!?! Who's idea was this? WTF??! lol Yea…that shit sounds like a long-shot.  I arrived and had a bumpy start…I got hate messages and email.  Never told anyone, not even management out of fear that I'd scare them out of the decision to give me a chance.  I ate the hate.  Then over time, something happened.  The few unpleasant messages were being replaced with laughs, smiles, phone calls and awesome stories from the audience.  The HEART of Chicago was being revealed to me. I was told, once you get that "Chicago love"…you get it.  I certainly feel the love Chicago.
We've enjoyed countless artist interviews, B Bashes, pranks, skits, silly songs, topics, remember "you are a CHEATER, YOU ARE A CHEATER…you prolly have an STD…." lol, Shelly's disgusting health food, Gabe's Sexy Spanish talk…I'm told that many of you have become close with the first voice you hear on the phone, our social media extraordinaire and phone screener Minnie.  I tried my best to keep you informed and in "the know" about pop, tech, current events and my single-life-saga.  Good times! I loved hearing your opinions.  Often i didn't have an opinion and I just wanted to hear yours.  We talked through tough moments…political unrest, protests, tragedies, natural disasters, tragic loss.  On this show there was never any chaos (well…a few "sticky situations" here and there), but always healthy discussion about difference of opinion.  So special. So friggin special.  I'm tearing.  If only the world could do what we did together.
Through all of the incarnations of my morning drive experience…adding and subtracting of players and personalities…you stuck with us and you taught me about this amazing city and you were learning about me…and the entire team.  I want to THANK YOU for giving me and US a chance.  Thank you for 10 solid years of support, in whatever form that was.  B96 will live on and so will I and my teammates.  Changes are rough but often happen for very valid reasons.  Thanks to social media you can ride shotgun in all of our new adventures.  From the bottom of my heart I'm sorry to disappoint you but I thank you SO MUCH for what you've added to my life. I love you and I love the city of Chicago.  Cheers to an awesome experience and many more to come.  Whether my next moments be here or there or anywhere, I hope you can join me.  Thank you. I love you.
-J
Media credits : AllAccess  Ramp247
EXCITING THINGS on the way…please hit the form at the bottom of the page to get the news FIRST!  – J